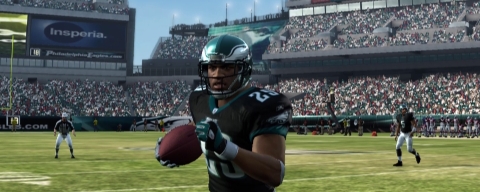 The first week of the Official Pastapadre Madden 10 Online Franchise is now complete. It was a big success with 15/16 games being played. We ended up going with 11 minute quarters and 15 second accelerated clock which has produced realistic scores and stats.
The biggest issue that has been discovered is there was nothing put into place to deal with the inevitable disconnects that will happen on occasion. Essentially you have a couple options when it does. Replay the game taking into consideration what had taken place previously, boot one of the owners so the other one can play the CPU and win and re-invite the owner after, or sim the game. Without having the option of scraping results or awarding a winner through a sim taking that route is more dangerous but saves the owners what would be a wasted hour.
Check out some of the notable performances in the season openers along with the current standings by continuing on.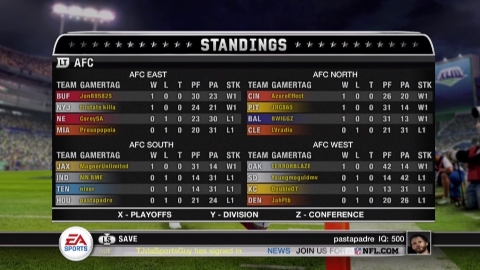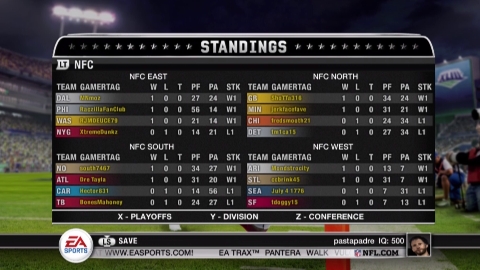 Lesean McCoy (Eagles) 15 rushes 162 yards 2TDs
Willie Parker (Steelers) 21 rushes 190 yards 2 TDs
Thomas Jones (Jets) 10 rushes 64 yards TD. 3 receptions 65 yards 2 TDs
Steven Jackson (Rams) 21 rushes 123 yards 1TD
Jay Cutler (Bears) 32-50-350 3TDs 3 INTs
Drew Brees (Saints) 23-30-314 1TD 2INTs
Jeremy Maclin (Eagles) 5 receptions 193 yards 2 TDs
Domenik Hixon (Giants) 4 receptions 124 yards 1TD
Ted Ginn (Dolphins) 4 receptions 131 yards 1TD
Calvin Johnson (Lions) 4 receptions 116 yards 1TD
Reggie Nelson (Jaguars) 2 interceptions
Ty Hill (Rams) 2 interceptions
Sean Jones (Bills) 2 interceptions
Sedrick Ellis (Saints) 3 sacks
Michael Johnson (Bengals) 3 sacks