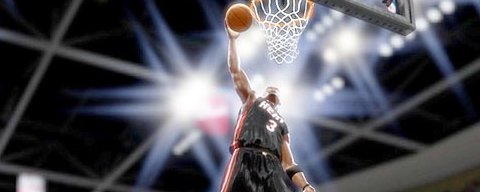 ESPN has posted up a full detailed preview for NBA 2K10. Elements of the game discussed include the new player ratings spread, partnership with 82games.com, CPU AI, and the change in how turbo is dealt with. There is also a lot about the Association and My Player modes. What really separates this preview from any others is the insight into the gameplay experience. Click here to read the full preview.
I recently had the chance to play the preview build on the set of the "NBA 2K10" commercial shoot in Los Angeles. The build was dated Wednesday, Aug. 26, and I was amazed at how everything from the player spacing to the defensive rotations and the way inside shots are contested (virtual Dwight Howard, in particular, swatted virtual Pau Gasol back to Spain) was improved in the latest edition of the franchise.
As good as it all sounds it would still be comforting to get to see some actual gameplay footage, which unfortunately may still be a few weeks away. The Draft Combine offered a taste of the game but is not necessarily indicative of the final 2K10. Interestingly with only five weeks to go we have still not seen the full feature list for either NBA game as they both continue to hold things back to reveal leading up to release.