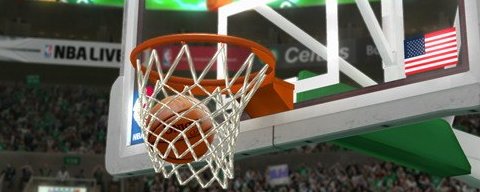 EA Sports has posted up another blog entry detailing everything to do with the shooting mechanics in NBA Live 10 and what drives the success of each shot. The three main areas of focus that were considered with any changes had to do with control, balance, and authenticity. Included is an impressive tutorial video that displays much of what is discussed in the blog. You can check out the full posting and video here.
We've also completely done away with our ratings-based shot success calculation and are now driving all of our shooting percentages through Dynamic DNA. It's a very complex heuristic which takes a lot of various factors into consideration. But the end result is picture perfect shot distribution and percentages. Needless to say, I'm really happy with the way shooting is balanced in Live 10. If you take the time to understand the strengths and weaknesses of your players, and properly balance your offensive attack, Live 10 will reward you.
Updating on the demo it is still expected to be out next Thursday September 10th for the 360 but it will not be out for the PS3 until September 17th. This seems to have become the trend with downloadable offerings as of late. Continuing on you can also check out the shooting tutorial video and a new gameplay video and leave your thoughts in the comments!