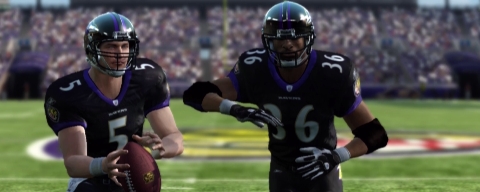 The Official Pastapadre Madden 10 Online Franchise continues to chug along at the targeted pace of two games a week. Now a quarter of the way through the season the league is starting to see where everyone is falling into place. A few surprise teams like the Raiders, Bengals, and Lions are proving to be contenders along with teams like the Ravens and Eagles who have handled their business in impressive fashion.
Continue on for the first set of power rankings this season and leave your thoughts in the comments! As always you can also continue to follow along with the happenings of the league as well as potential openings in the franchise forum.
1- Philadelphia Eagles (3-0)
This is a team that was active prior to the start of the season trading away Brian Westbrook making a commitment to LeSean McCoy as the featured back. They have also worked to improve areas of the team by using a surplus of talent such as Michael Vick to acquire players to fill holes and provide depth. The strategy has paid off as the team is currently 3-0 having ourscored opponents 149-63. Donovan McNabb has thrown 9 TDs but more astonishingly not a single interception. McCoy has rushed for 464 yards and 4 TDs.
2- Oakland Raiders (4-0)
The Raiders initially were looking at this as a year to grow young players but after a 4-0 start look destined to make the playoffs in a weak AFC West where they have already beat each team once. They have outscored opponents 158-41. That is the least points allowed in the league showing they are not just doing it with their speed on offense but the defense has been dominant. They have already intercepted 18 passes through four games with seven having been returned for TDs.
3- Baltimore Ravens (4-0)
The Ravens acquisition of Westbrook from the Eagles hasn't produced huge numbers but the team hasn't needed him to do so. They have outscored opponents 154-67 as Joe Flacco hasn't been flashy but he has been consistent. He has thrown 7 TDs to only 1 INT. This is another team anchored by the defense with 14 INTs and four of them being returned for the score.
4- Cincinnati Bengals (3-1)
Cincy may not have the most talented team but they appear to be well coached and explosive on offense. Their opponents combined records are 6-10 but the Bengals one loss came by just three points to the Steelers. They account for the Packers only loss so far this season, a team that has an impressive resume thus far. Carson Palmer has thrown for over 1000 yards and has 7 TDs to just 3 INTs. The Bengals and Ravens face off in week five to find out which is the true leader of the AFC North.
5- Jacksonville Jaguars (4-0)
The Jags have played weak competition thus far but appear to be able to cruise into the playoffs in a division that the rest of the teams are a combined 1-11. They have two players with four INTs on defense which has helped them to comfortable wins against all but the Texans. Maurice Jones-Drew has been the team's MVP having rushed for 584 yards and 6 TDs along with 11 receptions for 121 yards. They also are very dangerous on punt returns averaging over 20 yards per return.
6- Green Bay Packers (3-1)
Most impressive for the Packers is their opponent's 9-7 record. Green Bay is the only team with a winning record other than the 2-1 Panthers that the opposition has accounted for a winning record. Their one loss comes to the Bengals who have settled into the #4 slot in the power rankings.
7- New York Jets (4-0)
The undefeated Jets have the closest margin of points compared to the rest of the undefeated teams having outscored opponents by just a total of 32 points. However they look to have a balanced attack that could be tough for other teams to overcome. They recently acquired Braylon Edwards to provide another offensive weapon. Mark Sanchez has been solid with Dustin Keller being his go-to-guy with 26 receptions. The question is whether the team can get consistent production out of Leon Washington since he took over the starting job with a trade of Thomas Jones.
8- Pittsburgh Steelers (2-2)
The Steelers are 2-2 but have the big win over the Bengals to build off. They have also beaten a strong team in the Chargers. Opponents record is 7-9 which is average for the 2-2 teams. Willie Parker is third in the league in rushing with 566 yards and leads the league in TDs with seven.
9- Detroit Lions (3-1)
Another unlikely top 10 team resides in Detroit who actually hold first place in the NFC North. Matt Stafford has been everything they hoped for having already thrown for 1179 yards and 8 TDs to 5 INTs. Calvin Johnson has been the recipient of 5 of those TDs and Brandon Pettigrew is another impact rookie leading the team in receptions.  Kevin Smith is tied for second in the league lead with 6 rushing TDs. Already 2-0 in the division they have upcoming games against the Steelers and Packers which will provide an opportunity to prove they are for real.
10- San Diego Chargers (2-2)
Opponents record is an impressive 12-4 which could be an indication that they are a team that will make a strong push as the schedule eases up. They'll have a tough time winning the division outright with the Raiders looking dominant but may end up taking a Wild Card slot. Philip Rivers has struggled though throwing 12 INTs. They'll have to correct that to have a chance at the playoffs.
11- Carolina Panthers (2-1)
Outside of a drubbing from #1 Philadelphia the Panthers have solid wins over the Cowboys and Falcons. Steve Smith has led the team offensively with 250 yards and 3 TDs.
12- Minnesota Vikings (2-2)
Adrian Peterson leading the team as expected with 447 yards and 4 TDs.
13- Tampa Bay Buccaneers (3-1)
After an opening game loss to the Cowboys the team has bounced back and leads the NFC South.
14- St. Louis Rams (3-1)
The Rams have one of the tougher early schedules yet find themselves in first place in the NFC West.
15- New York Giants (2-2)
Team has reinvented itself with the acquisition and utilization of a two QB rotation with Michael Vick and Byron Leftwich.
16- Seattle Seahawks (3-1)
Weak early schedule has made it tough to judge long term prospects.
17- Washington Redskins (1-3)
Opponent record of 11-5 made for tough start but win over 2-2 Giants shows promise.
18- Miami Dolphins (2-2)
Two wins came against teams with a combined 1-7 record. Record may be deceiving. Three point victory over Buffalo.
19- Buffalo Bills (1-3)
Nice win over the Patriots and have only been outscored by a total of six points over the first four games.
20- Atlanta Falcons (1-2)
Have a nice win to show over the 2-2 Dolphins. Two losses are by just a total of nine points.
21- New Orleans Saints (2-2)
134 points for and 145 points against. Record may be deceiving.
22- Tennessee Titans (1-3)
Team has been hurt by "The case of the missing Chris Johnson" late in games though he has still notched 466 yards.
23- Arizona Cardinals (2-1)
Two wins are over winless teams. Record may be deceiving.
24- Dallas Cowboys (2-2)
Have been outscored by 57 points. Record may be deceiving.
25- Chicago Bears (1-3)
Defense has been abysmal giving up 145 points but offense has been impressive with Devin Hester and Greg Olsen both in the top six in receiving.
26- Houston Texans (0-4)
Three losses by a combined 11 points. Only drubbing came at the hands of the #2 Raiders. Opponents 13-3.
27- New England Patriots (1-3)
Losing Wes Welker to injury doesn't explain having given up 152 points through four games nor Brady having thrown 19 INTs.
28- Kansas City Chiefs (0-4)
Opponents have a 13-2 record making it difficult for the Chiefs to get any momentum early this season.
29- Cleveland Browns (1-3)
Win comes over 0-4 Broncos. Outscored by a total of 88 points this season.
30- Indianapolis Colts (0-4)
Indy has struggled on offense only scoring 48 points through four games.
31- San Francisco 49ers (0-4)
Several recent trades have changed the look of the Niners. Whether those moves will pay off will be seen over coming weeks.
32- Denver Broncos (0-4)
QB issues has the Broncos coach looking forward to the draft.