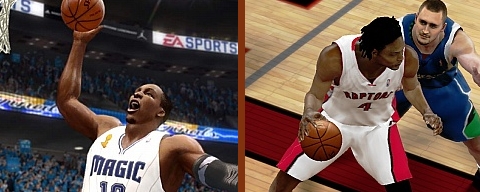 It is now just four weeks until the release of NBA Live 10 and NBA 2K10. Both continue to hold back full details of features presumably to be revealed over the coming weeks however enough has been released to build expectations. This should be a very interesting month as both games are offering their own advantages and going toe-to-toe to win over consumers.
NBA Live 10: A bunch of videos displaying improvements, numerous blogs detailing them, and actual gameplay footage has been distributed. Gameplay enhancements and authenticity rather than gimmicks or new features is  the concentration this year. The demo is due out this Thursday for the 360 and the 17th for the PS3.
NBA 2K10: While there has been absolutely no gameplay footage to speak of for NBA 2K10 the Draft Combine provides a good base of what to expect. The main focus this year appears to be on the new My Player career mode which the Combine ties into. There have also been a few blogs about the My Player mode and audio improvements. No word on when the demo will release but indications on there will still be one despite not bothering with a demo for NHL 2K10.
Vote in the poll below on which game you are more excited about and anticipating and leave your thoughts in the comments!