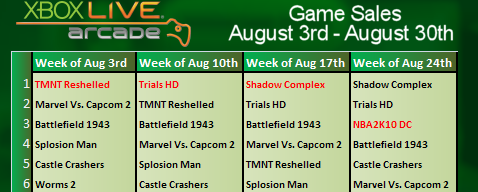 Initial sales indications shows that NBA 2K10 Draft Combine has performed admirably as a downloadable offering. Major Nelson released the weekly Top 10 sales charts for XBL Arcade in August. The week of Draft Combine's debut it came in third place behind Shadow Complex and Trials HD which are two very strong games. From knowing some of the surrounding sales numbers and historical averages sold it could be estimated that Draft Combine sold 15,000+ in its opening week for the 360. On the PS3 only the Top 10 for the month of August were released and given that DC was out for just the last week of the month it is no surprise that it didn't chart.
What is more difficult is determining what these results would mean for the idea that Draft Combine introduced, and going forward whether it could become a business model that other titles replicate. Since we don't know the development costs involved and with Microsoft and Sony taking a significant cut of each $5 sale whether the offering will ultimately result in profit can't be stated.
What should be considered is that it provides additional value in being a quasi-demo. For people who tried it out and enjoyed creating their character they would seem likely to purchase NBA 2K10 in order to carry on the career mode. It does however seem to have an abbreviated shelf-life with most of its appeal and sales potential coming in the window before 2K10's release.