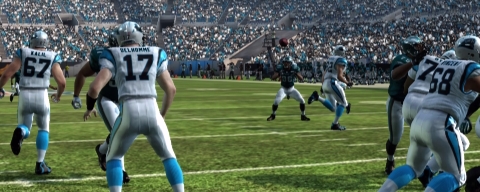 With the opening to the NFL season now complete we can turn towards the roster update for Madden 10 that is expected to come out late this week. Of course it is very early and week one isn't necessarily indicative of performance throughout the entirety of the regular season. That being said there are players who deserve to go up or down based on the results of the first game.
Pulling notes from Donny Moore on Twitter some of the changes to look forward to based on just the Monday Night Football games are listed below. These could give an idea of the type of magnitude of changes on a per game basis across the board.
JaMarcus Russell deep accuracy up, short accuracy down
Leodis McKelvin awareness, carry, and kick return down
Drew Brees may have earned an increase from his already stellar 97 overall rating. Can Adrian Peterson get any better than he is? He should probably be maxed out, though being prone to fumbling is what seems to hold him at a 97. LaDainian Tomlinson wasn't even on the field on the critical game winning drive for the Chargers and it appears that Darren Sproles has taken a more significant role. LT at 94 and Sproles at 83 will have to receive some adjustment. It's pretty safe to assume that Jake Delhomme will see his ratings take a hit. It simply can't be justified that he has an overall of 80 compared to a Joe Flacco at 81 (307 yards 3TDs) and several other solid starters in that range. Delhomme should probably fall in the mid-60s. Kurt Warner may see a drop as well as he and the Cardinals have looked nothing like the team that made the playoff run.
Of course the biggest move for the update transaction wise will be Brian Urlacher to the IR after his wrist injury put him out for the season. The Eagles have signed Jeff Garcia and Chris McAlister is expected to join a new team today.
Leave your thoughts in the comments on what players out/under performed their ratings in week one! Who should be recognized as deserving ratings upgrades and who should see their ratings fall?