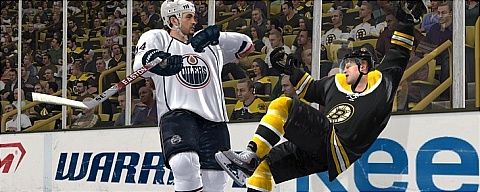 The NHL franchise from EA Sports has been breaking ground over the past few years along with the FIFA franchise. For sports that are not overly popular in the US, these games have proven that quality, depth, and fun factor can result in them reaching consumers who aren't necessarily fans or close followers.
While reviews have been glowing (currently averaging an 9.1) NHL 10 is currently up over 09 just barely as some of the reviews have actually been lower. This is a curious development because it doesn't sound as if there is anything specifically wrong with the game, just that it isn't a huge leap over last year. 09 was considered by many to be the best sports game of the year and it won by far the most awards for that designation.
So it seems that EA is stuck with a Catch-22 here and are being penalized because of the quality and value of the previous iteration. I just find that interesting because it goes to show why these companies add what we might consider gimmicks to market every year. NHL 10 didn't really do that, instead concentrating primarily on improving the already highly regarded gameplay and multitude of modes. The closest thing that could be considered gimmicky in 10 is the first person fighting. Like it or not, those are the things that resonate with reviewers.
While the trend with what reviewers look for and their influence on the games could be considered disturbing, I do somewhat understand the sentiment because I found myself less interested with NHL 10 than I was going into NHL 09. The EASHL was such a resounding success and so much fun initially but even that wore off. For someone who isn't a hockey fan I'm finding it difficult to get excited about more of the same even if there are a bunch of improvements made. I might feel differently if they had allowed for you to make custom logos and jerseys for EASHL. The move towards downloadable content boosts is also off-putting especially so because it affects the online experience.
So I'm curious for those of you out there with NHL 10, what do you think of the game so far? Leave your thoughts in the comments!