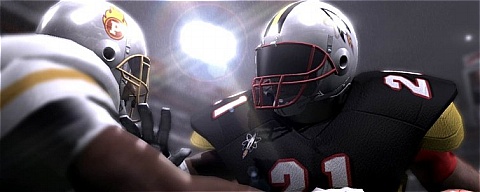 In my preview of Backbreaker from E3 I noted overriding sense I got that the game was far from release and would likely not come this calendar year. Following E3 there have been no developments to make me believe otherwise. Now comes even more evidence of the game shifting into 2010.
Gamestop has added Backbreaker into the system with a release date of Tuesday April 6th 2010. This does not necessarily look to be a placeholder as they generally use the 1st of a month in those cases. Of course being this far out it is possible the release date is not finalized and could change. The producers have stated numerous times that the game will release when they feel it is ready and they haven't been pressured into a release date or even a general time frame. Regardless the possibility of Backbreaker releasing well ahead of that date would be unlikely, so it is looking like the game won't be out for even longer than I had anticipated.
Also of note is the listing of 505 Games as the publisher. While Backbreaker has apparently had a publisher for some time now for whatever reason that has been kept under wraps. 505 Games has published a handful of titles, none of which have been related to sports.