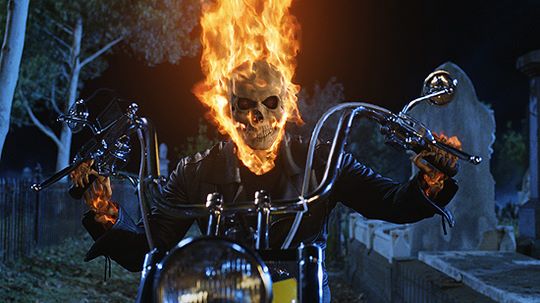 Variety is reporting Johnny Blaze is ready to ride again. Columbia Pictures is pushing for Batman Begins writer, David S. Goyer to script the sequel to the 2007 film Ghost Rider.
David Goyer is in early talks to create the story and supervise writers for a film expected to once again star Nicolas Cage, who played the highly flammable cyclist in the 2007 original.

Through a spokesperson, Goyer said he hadn't signed on yet. But plans are already under way to base the sequel on a "Ghost Rider" script written years ago by Goyer, whose superhero work includes hit screen transfers of DC's "Batman Begins" and Marvel's "Blade" franchise. The original "Ghost Rider" was scripted by director Mark Steven Johnson.
This would be an interesting development if Columbia is able to secure Goyer as a writer for the script. I've enjoyed the other comic to film adaptations he's been involved in. Blade is one of the more underrated comic movies, and we all know the success of Batman Begins. The original Ghost Rider wasn't my favorite comic movie. If Goyer writes the script, I'd be a bit more optimistic of Ghost Rider 2.