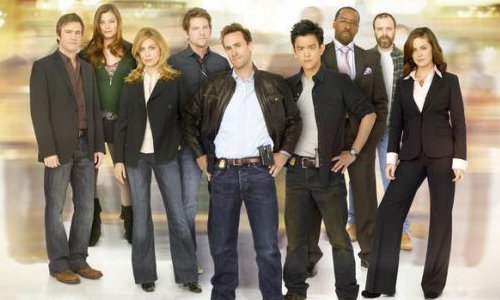 The most anticipated new show of the fall season is ABC's FlashForward which premieres tonight at 8pm. An event causes everyone in the world to blackout for two minutes and 17 seconds and during that time they see a glimpse of their future six months ahead. The characters will battle with the emotions that come from what they see in the flash. Many will not like what they witness, some will actually hope that their future comes true, while others will have difficulty understanding what their flash even meant. The show is based on the book of the same name, however it has changed the flash to the six months later instead of 21 years as it was originally in the book.
A fantastic cast includes Joseph Fiennes, John Cho, Gabrielle Union, and Lost alums Dominic Monaghan and Sonya Walger . FlashForward is produced by David S. Goyer who wrote The Dark Knight and Batman Begins. He has also written and directed a handful of the episodes for the FlashForward season including the pilot.
FlashForward feels a lot like the eventual replacement for Lost. My first concern was how the show could go past a single season since the date that is flashed is going to be reached by the finale. However producers have already charted out the first five seasons worth of storyline, so if successful the show could be around for a long time.