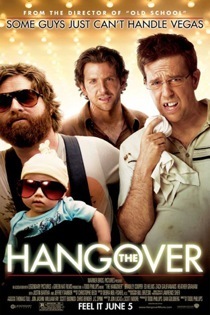 The Hangover will be coming to Blu-ray just in time for Christmas. Warner Brothers is releasing both the theatrical and unrated cuts on December 15.
The releases will include the following extra content:
-More Pictures from the Missing Camera
-"Map of Destruction"
-"The Madness of Ken Jeong"
-"Action Mash-Up"
-"Three Best Friends Song"
-"The Dan Band!"
-Gag Reel
Exclusive Blu-ray Content:
-PIP Commentary
-BD-LIVE ("Iron Mike Online Teaser" and "Cursing Mash-Up")
Suggested Retail price for the Two-Disc Unrated DVD is $34.99 and the Blu-ray version is $35.99. Amazon.com does not currently list the movie on their site, but I'm sure you'll find it cheaper there when it becomes available.