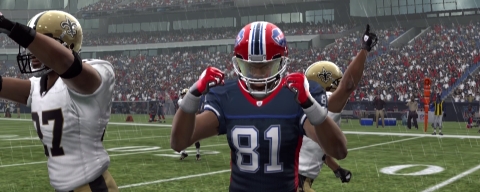 Yesterday the man in charge of the Madden 10 player ratings Donny Moore tweeted that this year the philosophy is results on the field will be what determines ratings changes with no excuses. It doesn't matter who the player is, if they aren't producing or if they are outdoing expectations they'll see their ratings move. With this in mind here are some potential changes to look for this week.
Terrell Owens saw his play drop off last year and he has not produced for the Bills with only five catches through three games. His 91 rating is no longer justified. On the other end of the spectrum is Joe Flacco who was largely ignored last year in the ratings changes and so far has been stuck at an 81 this year despite other QBs seeing movement. He has a 101.4 QB rating with 6 TDs to 2 INTs and 839 yards for the undefeated Ravens. There are some terrible QBs in the league (JaMarcus Russell, Brady Quinn) and a 9 and 10 point difference between those two and Flacco isn't reflective of a big enough spread. The Titans have been good against the run and pressured the QB but their defensive backs have been the weakness this season and could see some drops.
Some other moves to expect will be Chad Pennington to the IR and the benching of Byron Leftwich in favor of Josh Johnson in Tampa. As usual leave your thoughts in the comments on what players are outperforming or disappointing compared to their current ratings.