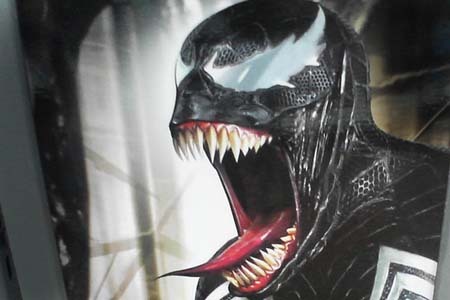 Recently it was reported that Zombieland writers, Rhett Reese and Paul Wernick would be writing the screenplay for the Venom movie. Now Variety is reporting Sony is in talks with Spider-Man 4 writer Gary Ross to rewrite the script and possibly even direct the Venom spin-off.
The relationship between Columbia Pictures and Gary Ross that began with his rewrite on "Spider-Man 4" is taking a "Venom"-ous turn.

I am hearing that the studio is in talks with Ross to helm the Spidey-spinoff "Venom," and rewrite the script.

Ross will begin writing the script as soon as he completes the "Spider-Man" film.

While Venom showed up in the last Spidey installment, the intention is to start from scratch. Topher Grace played him in the last picture but the role will likely be recast.
I think it's a good move to go in a different direction by not recasting Topher Grace to play Eddie Brock. I didn't really care for Spiderman 3 and thought the Venom character seemed rushed. Anything you can do to differentiate yourself from the Venom character featured in Spirderman 3 would be smart.