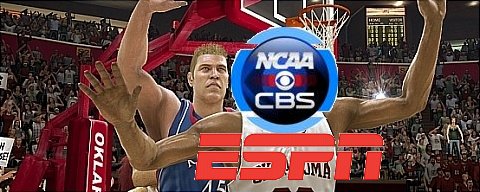 Not only does NCAA Basketball 10 have the CBS presentation as shown in the recent video, but it will use the ESPN presentation as well. Depending on the day a game is played or the tournament being played in you'll get the respective full presentation of either ESPN or CBS.
We have full ESPN broadcast integration for the first time, says Dougan. It looks exactly like you see on television. All of the intros, fly-ins, movies, graphics, announcers [Dick Vitale, Brad Nessler, Erin Andrews] … all of that stuff you see on ESPN will be in 'NCAA Basketball 10.' Not to mention, we're also doing CBS Sports integration. So that means we'll have two new announcers for the CBS team and that's Gus Johnson and Bill Rafferty. They'll be calling the games along with all of the CBS Sports broadcast packages. So if you're playing through your Dynasty mode, your Monday through Friday games will generally be on ESPN, but your big weekend games will be on CBS Sports. Conference tournaments will switch between the two broadcasts depending on who owns the rights to that specific tournament, and then, of course, the NCAA basketball tournament is broadcast on CBS.
Having multiple broadcast teams is something people have been suggested in the past actually seeing it happen still comes as somewhat of a surprise. Doing something radical to put NCAA Basketball on the radar for gamers was necessary though and judging from reaction out there it has done just that. Further info on the game can be found in the ESPN article.