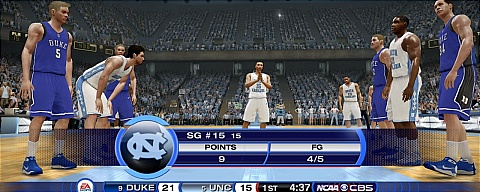 EA Sports has posted a blog that goes more in-depth on the ESPN and CBS integrated presentation that will be featured in NCAA Basketball 10. The blog covers some aspects that could not all be shown in the previous introduction videos for CBS and ESPN such as breakdowns of the audio, cameras, halftime, overlays, and replays. Click here to read up on all the details.
This is the first time that an EA SPORTS title has had full ESPN in game presentation and the first time any sports game has had CBS Sports integration. It is also the first time that a sports game has had the option to choose your presentation package, complete with different announcing teams. ESPN covers over 500 college basketball games per year and CBS Sports has been broadcasting the tournament since 1982. Knowing this we feel that the integration of these leading brands evoke a strong emotional response when seen in game and will provide you with a greater level of authenticity and immersion.
Reaction to the news has resulted in a surge of interest and awareness towards NCAA Basketball 10 that would've seemed unlikely just a week ago. Feel free to leave your thoughts in the comments about the presentation and anything new learned from the blog!