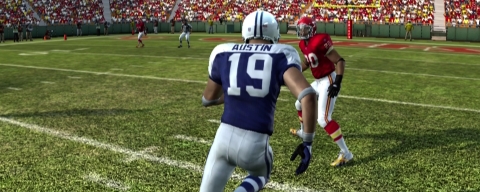 Normally one game wouldn't result in a ratings upgrade but what Miles Austin did will almost certainly get him one. He basically took over the role as #1 receiver with Roy Williams out and turned in a Cowboys record breaking 250 yards with 2 TDs. Austin right now sits at a 70 and could end up matching teammate Patrick Crayton at 77 now that he has taken his starting spot with Crayton possibly dropping down. Cedric Benson became the first RB to go over 100 yards against the Ravens defense in the last 40 games and leads the league in rushing yards. We should see his current 80 rating jump into the upper 80s.
Kyle Orton should get a few more points and because of that will probably be up 10+ from where he started in the original Madden rosters. Chad Henne played really well last night and should not be rated below QBs like JaMarcus Russell, Derek Anderson, and Brady Quinn (all three of them should be lower). Nate Burleson should see a boost as he is currently 2nd in the NFC in both catches and receiving yards and is just rated an 80. Matt Hasselbeck is deserving of some recognition due to how much impact he has on the Seahawks, having outscored opponents 79-13 when he is playing vs outscored 79-36 when he has been out. He has missed 2 1/2 games but still has more TDs than top QBs such as Tom Brady, Kurt Warner, Philip Rivers.
Maurice Jones Drew has really only had two good games this season and the others he hasn't been much of a factor putting into question the 94 he has right now. Patrick Kerney has shown nothing this season and the pass rush was actually better without him. He should be no where near the 93 rating he currently has. Terrell Owens still sits too high with his 88 rating given he has only 12 catches.
As always feel free to leave your thoughts in the comments on what players should see an upgrade or drop with the coming Madden 10 roster update!