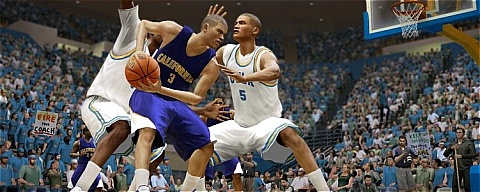 Thanks to Gamespot the first videos of actual gameplay are now out for NCAA Basketball 10. Two are from CBS presented games with Michigan @ Boston College and Auburn @ Kansas and one uses the ESPN presentation with Stanford @ Georgetown. Each runs just over a minute long.
What I liked outside of the TV replicated presentation was the player movement on offense which looks very active and fluid. The commentary (CBS especially) feels a little empty at times which is probably because this is the first year and it takes a few to really build up a library. It is a little jarring to go from a period of silence to the shouting of Gus Johnson. The variety from having two broadcast teams makes up for what will probably be lacking some this year.
Continue on to view the videos and leave your thoughts in the comments!