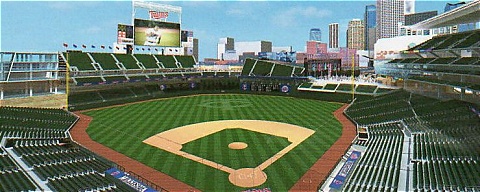 Kotaku has posted up an article discussing the process behind putting in a new stadium for a game when said game comes out before the season even begins. MLB 10: The Show will be facing that dilemma with the opening of Target Field for the Minnesota Twins. Check out the full article here.
A new stadium takes up roughly 60 megabytes of space on a game disc, but building one takes nearly four months of work, according to Shawn Robles, the lead environment artist, and Jody Kelsey, the senior producer, for Sony's MLB The Show franchise. Their studio began preparing for an in-game version of Target Field as soon as they knew it was being built – ground was broken in August 2007 – but the bulk of their construction will come in this game's development cycle, as construction on the stadium nears completion.
This was an interesting subject last year with CitiField and Yankees Stadium as the development teams for MLB The Show and MLB 2K were forced to work off early sketches and dimensions and had to make some guesses as to aesthetics because the teams would not allow them to see the finished plans or product.
Of course all of this is is pointless when a company makes changes to stadiums just to increase ad placement such as was seen in MLB 2K9 with the increased height of the left field wall in Nationals Park and the addition of a billboard in the center field of Wrigley. Hopefully 2K Sports has learned from that blatant disregard for accuracy and for the disrespect shown towards consumers who expect it.