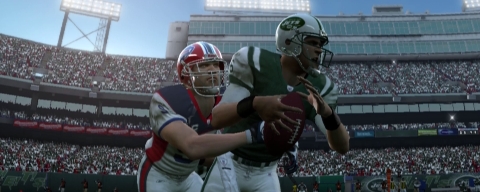 Now that six weeks are in the books the undefeated teams have established themselves as legitimate contenders and may be deserving of some more attention in the ratings. The Saints, Colts, Broncos, and Saints have all proven they are for real. On the other end of the spectrum there are teams like the Titans, Redskins, Bucs, and Rams who should take a hit in their ratings based on their performance this season.
Looking at specific players maybe it was premature to slide Tom Brady down to a 96. He shredded the Titans and broke a record in the process throwing for five TDs in a single quarter. Brett Favre has undeniably been great this season and probably will move up from the 85 he currently has. Elvis Dumervil added another two sacks and a forced fumble and should go higher than the 83 he has now. Mark Sanchez may just be an 81 but after the last three weeks he should drop some. In the three straight losses he has thrown just one TD while being picked off eight times. The Titans threw for negative yardage against the Patriots so Kerry Collins and Vince Young are probably still overrated at 74 and 71 respectively.
This update should also see some injury movement with Antwan Odom and Kris Jenkins out for the season and Lofa Tatupu out for at least an extended period of time. As always leave your thoughts in the comments on what players are deserving of either a boost or a drop in the ratings in the upcoming roster update.