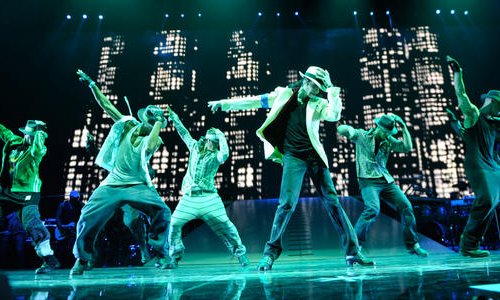 The documentary about the final months and days of Michael Jackson's life, featuring footage of preparation for the concert tour he was planning, arrives in theaters tomorrow. In some places the movie begins showing at 9pm tonight. This Is It will only be in theaters for a limited two week run before moving on to DVD and Blu-ray in December. There have been rumors though that the theater run will be extended or it will have a second engagement down the line if it does as well as expected.
This Is It has the potential to set the record for a Wednesday opening. Ticket pre-sales have been off the charts with hundreds of screenings having sold out over a month in advance and now that number is well over 1,000. AEG, the owners and producers of the film, have publicly stated they expect 250 million in the first five days. That statement though is just intended to drive up the hype even more and few would accept that as being a realistic expectation.
Transformers: Revenge of the Fallen holds the current Wednesday record with 62 million and Harry Potter and the Half-Blood Prince sits at #2 with 58 million. This Is It could end up as high as #3 making more than the 44 million of Harry Potter and the Order of the Phoenix. Industry expectations are all over the board because of the unprecedented nature of the film and the circumstances that surround it. There is really nothing that it can compare to.
I'm expecting the huge opening Wednesday and continued strength over the five days. The majority of interest in the film is from people who will go out to see it as soon as they can. The factor that is more difficult to judge is how this could be a phenomenon in how many go to see it multiple times and how many groups go out to see it together. With the run being limited it has the potential to avoid the normal drop-off that movies see after a significant opening for a highly anticipated event film.
Opening Predictions
This Is It (Wednesday): 45 million
This Is It (Five Days): 94 million