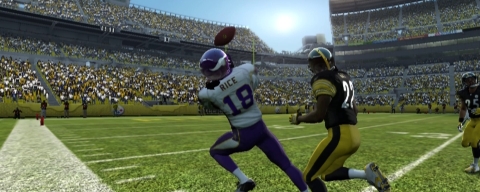 Having no roster update for Madden 10 last week most of those same suggestions apply. Some teams have shown they deserve more in how they are represented in the game such as the undefeated Broncos, Saints, and Colts. Other teams like the Rams, Bucs, Redskins, Raiders, and Titans probably will never be rated as low as they should be.
For individual players it will be taking into account two weeks where many have displayed they are deserving of a boost. In addition to the week six thoughts those players include Sidney Rice who has become a big-time target for Brett Favre but is only rated a 77. Miles Austin had another outstanding game and has become the #1 receiver for the Cowboys. He should go up to the low 80s from where he is now as a 76. Matt Schaub leads the league in passing yards and TDs but is only rated an 84. Cedric Benson should see another leap as he leads the league in rushing and will move from his 86.
On the way down there are a handful of QBs to choose from. JaMarcus Russell is too high as a 68. He was benched this weekend, has a 2-8 TD/INT ratio is only completing a dreadful 46% of his passes. Jake Delhomme has been picked off 13 times already and it appears he will be getting benched as well. The 76 is too high when there are competent QBs rated in the high 70s and low 80s. Shaun Hill has been a decent game manager but now that he has been replaced he should see a drop as well. One more player to consider is Roy Williams who has clearly lost his stance as #1 receiver in Dallas and has not performed up to the level of an 84. He has only 12 catches and 1 TD on the year.
This update will move Alex Smith into the starting role with the 49ers. While it would be premature to judge him based on a single half of football against a team that didn't gameplan for him he should see a slight move up. He is currently a 70 and could move to 74 with Shaun Hill maybe sliding down to a 73.
Injury wise look for players such as Kris Jenkins, Leon Washington, Will Allen, and Antwan Odom to hit the IR. The trade of Will Witherspoon to the Eagles will also be reflected.
As always feel free to leave your thoughts in the comments on players that deserve a ratings hike or should see their ratings drop with this week's Madden 10 roster update.