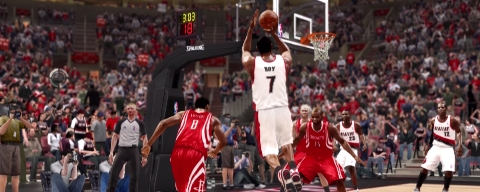 The start of the NBA season means the activation of the main new addition to NBA Live 10 this year with the Dynamic Season mode. Dynamic Season allows you to play alongside the real NBA while incorporating the updated DNA and rosters throughout and importing actual stats from the other games. You can choose to play any games on the schedule you want and it can be the same day or you can utilize the "Rewind" feature and play a game from a previous day.
Currently there are some issues that are being worked on with the Synergy data not coming through. So the results and stats from last night's games are not shown. Those should show up soon though once everything has been ironed out. This doesn't affect anything to do with the user side it is just the real life data that has not arrived in the mode yet.
I have chosen to stick with one team and play through the season as the Portland Trailblazers with the games set to All-Star difficulty and 12 minute quarters. While I won't be doing an update on every single game along the way I will update regularly on the status of my Dynamic Season. Continue on for a recap of the first game from my Dynamic Season with a game at home against the Houston Rockets.
First of all the lineups seemed to be right on to what was seen as the NBA season opened up. Yao Ming was not played for example and the starters matched real life. Without the DNA data to go on since it was the first game of the season I'm not sure the rotations and minutes played were proper. I started the game with auto-subs but had to keep making changes because it did not insert Rudy Fernandez.
This was a good game up to the half. The Rockets held a 51-46 lead at that point however they broke it open with a couple runs in the second half. I was able to close the gap to eight points with seven minutes remaining in the 4th quarter however Houston made some clutch shots and pulled away late to win 120-97.
In the Dynamic Season menu you can check out the player stats as well as compare to the "community" which shows results from all around Dynamic Season and user records. Most interesting is the team DNA which, if you stick with one team the whole way, will show you exactly how you play with them.