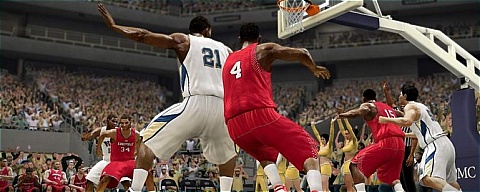 The NCAA Basketball 10 features list is now out thanks to Gamestop. With only three weeks until the game is released and a little over a week until the demo there has been reason to wonder why no other features or improvements have been discussed. Now having the list it becomes seems that there is just little else to go on except for one new addition that will probably be talked more about in the coming weeks.
NCAA Basketball 10 appears to best described as college-hybrid of NBA Live 10 gameplay with the addition of the CBS and ESPN presentation. Most disappointing is a lack of Online Dynasty, Online Team Play, Teambuilder, or individual career mode in the mold of Road to Glory. I was hoping especially for the Online Dynasty or a career mode. They have the ability to extend the value of the game and reach those who aren't completely invested in the sport. As is there just isn't much pull to the game except for those who are huge college basketball fans.
The most intriguing thing found on the list that hasn't come up is the dynamic updating. This sounds as though it is along the lines of the Synergy provided updates found in NBA Live though less concentrated on individuals and more on team styles and performance. It could be one way around being unable to do roster updates because technically they aren't supposed to be real players. By presenting it as "team" updates they may be able to change the individuals in the process.
Continue on for the full list of features and leave your thoughts in the comments.
Play in the Spotlight—Authentic broadcasting presentations from the all-star announcing crews of Dick Vitale, Brad Nessler, and Erin Andrews of ESPN, and Gus Johnson and Bill Raftery of CBS Sports bring every moment to life like never before.
All-New Motion Offenses—Choosing from multiple sets that include the Dribble Drive, Princeton, Flex and more, run an offensive system that best fits your school's strategy and personnel.
True Home Court Advantage—NCAA Basketball 10 features the 20 Toughest Places to Play voted by you, the fans, as the most hostile and intimidating environments in college basketball.
All-New Dynamic Updates*—Enjoy a true-to-life college basketball experience as real-life RPI ratings and stats from every Division I school are imported in-game weekly—absolutely free!
Gameplay and Visual Enhancements—Make a run for the Final Four with more than 100 improvements, including player movement, rebounding, off-ball collisions, alley-oops, size-ups, and more.
Deeper In-Game Strategy— Improved Coach Feedback System and Team Tempo Control enables you to execute your gameplan to perfection.