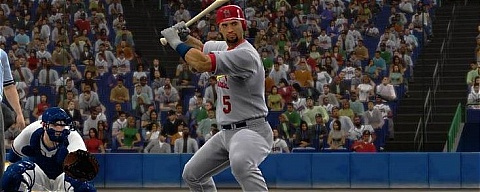 Following the news on Steve Phillips last week I broached the question of what that meant for MLB 2K10. The commentary was probably the only redeeming quality from 2K9 and the duo of Gary Thorne and Phillips was made a big marketing point. After these developments it would appear that 2K would have no choice but to make a change. Still with only four months until release the opportunity to do so is limited and makes it a difficult task.
Owen Good at Kotaku (and also featured on Deadspin) has chimed in on the topic and agrees that he can't stay in the game as the scandal is too significant to ignore.
Phillips is a recidivist philanderer, and the latest ESPN scandal is top-of-mind for baseball fans. If his only television appearance in 2010 is on a gaming console, it makes his dismissal more conspicuous by half, and it's 2K's problem to manage, not ESPN's.
It would be one thing for Phillips to disappear out of the spotlight now but if he were to show up in 2K10 everything would come back to the surface. 2K would not even be able to advertise their commentary team. We'll see if 2K is willing to respond to the situation as it would be really interesting to hear what their plan is at this point. If they do respond I'll have another posting regarding that.