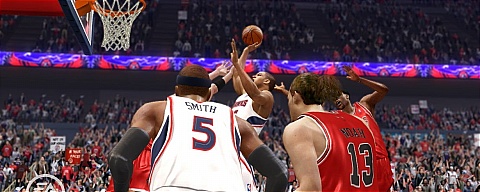 Earlier this week controversy arose when a 2K Sports representative criticized the way the NBA Live 10 patch was being received. Rather than respond directly to that statement it seems that EA Sports has taken another approach. With the use of their blog they are now attempting to spread the perception that NBA 2K10 has fallen off this year due consumer reaction to the problems with the game. You can check out the posting that went up earlier today here.
This is the first time where competitors have gone at each other in such a public manner. It started on Twitter, elevated with the 2K statement a few days ago, and now is being used in the marketing. Some will surely like this, believing it will bring out the best in both development teams as they try to outdo each other next year because of the rivalry. There is probably something to that. However it doesn't make either side look good right now. With basketball being the only sport that really has direct competition it has boiled up into what we've seen in the last month.
Despite the advances Live has made it has issues of its own too. The latest patch has brought about a problem where the points from goaltending are not being displayed on the scoreboard for instance. EA would be better off touting some of the areas the game excels in such as the atmosphere rather than pointing out the faults of the competition which are evident without being highlighted in a blog. Personally I would just rather have each side concentrating on their own product.
Update: Kotaku has a take on the EA vs 2K war which you can check out here.