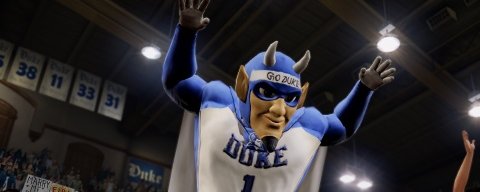 Way back in April the Top 15 toughest places to play in NCAA Basketball 10 were determined via fan voting. EA Sports has now released a video that features a countdown of the top 10. IGN also has a quick Q&A regarding the home court advantage that will be included in the game which you can check out in its entirety here.
IGN: If I select a school that's not on the top ten toughest places to play list for my dynasty, can I build them into such a powerhouse that they'll eventually make it on the list?

Connor Dougan: You sure can – It's all about taking your school and building up that powerhouse program and a big part of that is having a great home court advantage and great home record. Do that and you'll find yourself among the top 20 Toughest Places to Play.
Atmosphere is a critical part of college basketball and having played NBA Live 10 and experienced the playoff atmosphere it is easy to recognize how much it can add to the enjoyment of the game. The video however doesn't offer much other than a chance to hear some of the audio which does seem as though it will be impressive. Continue on to watch and leave your thoughts in the comments.