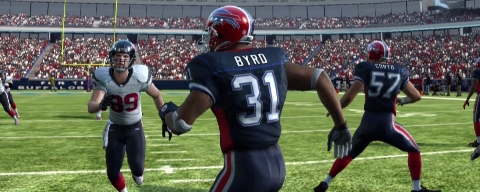 Statistically there were only a handful of players who had standout games in week eight however some trends were evident. The Giants should see a drop (at least to the defense) after getting smoked in three straight games. Kurt Warner turned the ball over six times and has been inconsistent this season. Steve Slaton got benched in favor of Ryan Moats who had a big game so some changes may be in store there. Jairus Byrd has seven picks and 16 passes defensed already this season leading the league in both categories and could get pushed up a few more points this week.
For some reason EA is hesitant to drop JaMarcus Russell down more than a point each time they do, I'm guessing this is because they still want the Raiders to be a serviceable team for those who want to use them. Currently he sits as a 67 which, granted, is the lowest starter. However the ratings are supposed to be reflective of how good the players are and those who decide to play with the Raiders would know they've got a challenge on their hands. Artificially keeping certain players higher just because they are starters goes against the whole meaning of ratings.
Owen Daniels injury and the release of Chris Chambers should also be reflected in the next update. As always leave your thoughts in the comments on what players deserve a boost or a downgrade based on their performance in this week's Madden 10 roster update.