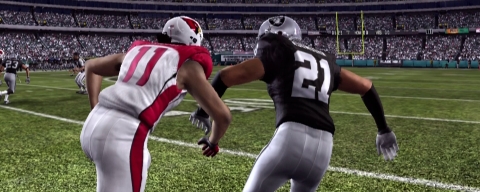 The Pastapadre Online Franchise has now reached the pinnacle of the season. The Super Bowl will see the AFC representative Oakland Raiders face off against the best of the NFC in the Arizona Cardinals. For those of you interested in joining into the franchise for season two please drop your info in this forum thread. Selections will be made in the coming days before the start of the free agency process and draft.
In the AFC Championship the #1 Raiders topped the #3 Ravens with relative ease 41-17. Oakland jumped ahead 17-0 in the first quarter and never looked back. Darren McFadden scored the two TDs on long runs of 71 and 56 yards and he finished the game with 169 yards. They didn't need much else as Joe Flacco threw four picks and there was no way the Raiders were going to be beat by a team that made any mistakes let alone five total turnovers.
The NFC Championship saw the #1 Cardinals top the #3 Eagles 28-14. The Cards took a 13-0 lead into the fourth quarter where a couple scores were exchanged but the outcome was never in doubt. Donovan McNabb threw for 352 yards while Arizona moved the ball primarily on the ground with both Frank Gore and Beanie Wells going for over 100 yards.
So the Super Bowl matches up the two best teams in the online franchise as everyone would hope for. The 16-2 Cardinals will be the underdog against the 18-0 Raiders. The two teams did not play each other in the regular season.
Mentioned throughout the playoff previews has been the Cardinals ability to score on special teams. Dominique Rodgers-Cromartie led the league in return TDs and he had a 100 yard kick return TD in the NFC Championship. They will likely need to get a score from special teams or with their defense in order to have a chance against the Raiders.
Oakland has proven that they will not beat themselves. They have a good ground game and an efficient though unspectacular passing attack. They limit turnovers and jump on opportunities to bury teams by capitalizing on theirs.
With the exception of acquiring Frank Gore for Anquan Boldin the core of these teams were not changed significantly. That Gore trade though gives the Cardinals a dual-headed rushing attack. If they fall behind early and have to abandon that they may be doomed. It'll be important that they can keep offensive balance and if they get a lead they are structured to hold a team off by consistently moving the chains.
The Raiders will look to grab that early lead and put the Cardinals away before they can get into a groove. It will take a near perfect effort by Arizona to pull this one off.
Line: Raiders -6