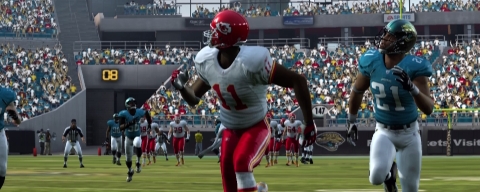 Despite EA taking three weeks off from Madden 10 roster updates I wanted to keep this going since it makes it easier to track performances as the weeks go on. Now halfway through the season there are only two undefeated teams though the Colts appear vulnerable due to defensive injuries. On the other end of the spectrum is the Giants who have now lost four straight games and should see that reflected in the ratings when the time comes.
Cedric Benson has now rushed for over 100 yards against the Ravens in both games this year. He is the only RB to rush for 100+ on Baltimore in the last 43 games. He has to be considered one of the best RBs in the league now and deserves a rating in the 90s. Matt Forte is rated an 88, just one point less than Benson, and he has only gone over 100 yards once this year. Clinton Portis is rated a 92 and has only crossed the century mark once as well. Chris Johnson has been unbelievable with 491 yards in just his last three games. He now has the rushing lead ahead of Benson. He should be moving up from his 90 rating.
David Hawthorne has played great in place of Lofa Tatupu and he legitimately could be the best player on the Seahawks defense. In the three games Hawthorne has two sacks, recorded 33 tackles, and has picked off three passes but is only rated a 71. Vince Young hasn't been great statistically but he has done well enough to help the Titans win their first two games of the season. He's sure to receive at least a small bump from his 71. Meanwhile Matt Leinart can't even be trusted in mop-up-duty time and is a 73.
Injury wise from this weekend the next update will include Chris Henry, Thomas Davis, Marlin Jackson, and Bob Sanders hitting the IR. Chris Chambers was released and is now with the Chiefs and Edgerrin James has been released. Larry Johnson has been sent off as well and may be with a new team by the time the next update arrives.