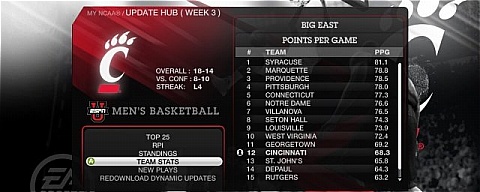 As noted when the official fact sheet from EA Sports for NCAA Basketball 10 was released it lacked mention of the "Dynamic Updates" that had been included on the features list. With less than a week until release they have finally come out and discussed this feature. You can check out the full blog here.
With these updates you will also get the latest top 25 and RPI for all teams featured in the game. These updates are showcased in-game on all relevant broadcast overlays as well as in the Dynamic Updates menu. There will be speech that supports win/loss streaks as well as the Top 25 itself.
It"ll be a while before it can be determined how much impact dynamic updates has on NCAA Basketball 10 but from its description it doesn't sound like much and the blog is very thin on details. It could end up improving online play along with the Play Now games by better representing the teams throughout the year. What isn't clear is how these updates will affect individual players. If it is going to update team ratings the only way to actually do that is by changing the players. The past two years have brought roster updates at tournament time but hopefully dynamic updates are about finding a way around not being able to do them regularly. If it does accomplish that it would be a great addition and it would explain why they have been hesitant to really discuss the feature.