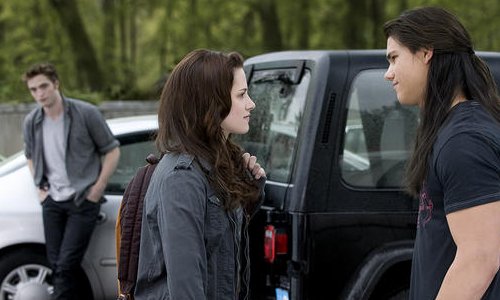 The Twilight Saga: New Moon has already broken records for advance sales and for midnight showings. Now it can lay claim to owning the largest opening day in history. The Dark Knight was tops with $67.2 million however New Moon pulled in $72.7 million on Friday. That number includes the $26.3 million that was made from the midnight showings.
While New Moon is expected to be front-loaded it is on its way to a massive opening. It will now surely become the largest November opening surpassing the $102 million of Harry Potter and the Goblet of Fire however it does not appear to be a threat to The Dark Knight's $158 million opening weekend record. Even the most optimistic industry expectations were not expecting New Moon to surpass $105 million.
Looking at potential drop-offs New Moon could fall about 55% on Saturday and another 40% on Sunday. That would have it headed towards about $128 million and the fourth largest opening weekend in history.