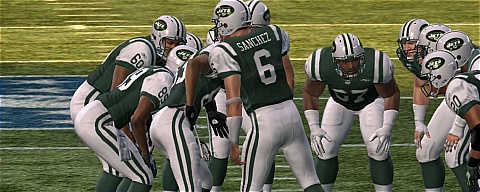 While there has been no statement that has ruled out a roster update for Madden 10 this week it does seem unlikely given the Thanksgiving holiday. Still it is good to track performance on a weekly basis in order to better evaluate where the roster updates are taking players when they aren't being done as frequently meaning there is more potential to miss things.
Darrelle Revis started the year hot and saw his rating boosted to where he was considered a shutdown corner. Though he has not performed up to that level since and got picked on by the Patriots he remains a 96 and should drop from that. Roy Williams has continued to look lost on the field for the Cowboys. He went without a single reception on Sunday and has just 24 catches on the year yet is rated an 84.
Jay Cutler only had one INT against the Eagles but he looked tentative the entire night and the INT came on the critical final drive. He has only dropped five points from where he started the year which is hard to believe given the expectations compared to the results. Mark Sanchez continues to struggle completing only 52% of his passes and his 16 INTs trail only Cutler for most in the league.
Bernard Scott was able to run for 119 yards for the Bengals in Cedric Benson's absence while new acquisition Larry Johnson should be rated much lower. It doesn't make much sense that Johnson is rated an 82 making him 11 points above Scott. Steven Jackson has over 1000 yards on the year with four straight 100+ yard games and considering how bad the Rams are offensively that makes those numbers more remarkable. His 94 may be understating how good he really is. The Raiders pass defense should get an upgrade also as they continued to play well shutting down the Bengals attack.
Injuries have resulted in Ladell Betts, Jason Ferguson, Fabian Washington, and Al Harris being placed on IR. Make sure to leave your thoughts on what players should see a boost or a decline in the next roster update in the comments!