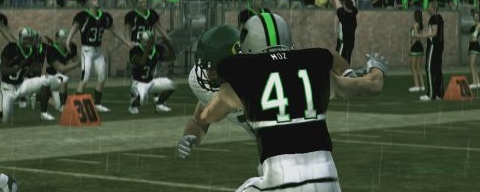 A survey distributed by EA may have provided some insight into improvements and new features that are being considered for NCAA Football 11. The questionnaire asks for a selection of the top three out of 13 choices. Included are things like an Athletic Director mode with stadium creator, authentic team entrances, and ESPN style TV presentation. While there is no guarantee any of the options will make it in the game it does stand to reason that some of them will.
Of the possible selections I would probably favor the locomotion gameplay, authentic offensive styles of play, and ESPN broadcast presentation. NCAA Football's problem isn't a lack of features or modes. There is arguably no sports game that can match NCAA Football 10 in that regard. It is the lack of enhancements directly related to gameplay and the weak representation of college emotion.
Continue on to view the entire survey. Leave your thoughts in the comments as to what you think of the possibilities and if there is anything that should be considered in addition to them.