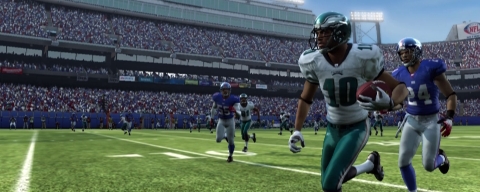 There isn't another Madden 10 roster update scheduled for until January 8th but it remains a good idea to keep tracking progress over the coming weeks. The last update left a lot to be desired so some corrections are already in store but there were also other developments to take a look at based on performance over the weekend.
The Patriots and Steelers somehow improved in the last roster update despite their troubles. Both Randy Moss (for lack of effort) and Adalius Thomas (benched) should see their ratings affected. The Steelers need some cuts across the board based on a five game losing streak which includes some teams they had no business losing to.
Bruce Gradkowski had been playing relatively well before his injury, cue JaMarcus Russell and disaster strikes again. He should really see his overall rating fall from 65 to the low 50s. Brian Orakpo had a big game tallying four sacks (11 now on the year) and a forced fumble, though it should be noted much of that had to do with Russell being in at QB. He should see a bump from his current 78 rating.
Chris Johnson keeps staking his claim for a 99 rating. Brandon Marshall broke the record by finishing with 21 receptions against the Colts. He may be outplaying his 93 rating. DeSean Jackson now has laid claim to the record for most TDs in a season over 50 yards with eight of them. He currently is rated an 87. He also had a spectacular punt return TD and it appears his speed will at least move up to 99.
As always leave your thoughts in the comments as to what players deserve an increase or decrease based on their performance!