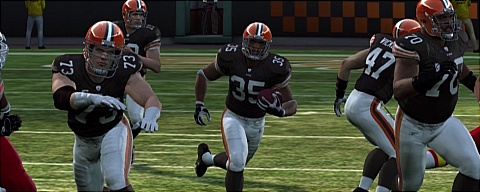 While the next roster update for Madden 10 remains scheduled for January 8th the tracking of performance from week-to-week continues here. Last week a lot of my reaction was to seeing teams that had been struggling for quite some time actually receiving more upgrades than downgrades in the last update. Since then there has been some bounce-back by teams such as the Steelers and Giants. With such a tight race for the playoffs between a few teams in the NFC and a bunch of them in the AFC the end of the season is shaping up to be extremely compelling.
Two running backs featured in the same game are probably deserving of some ratings attention. Jerome Harrison of the Browns pulled off the third best rushing day in history by putting up 286 yards along with three touchdowns. On the other side was the Jamaal Charles who had 154 yards. Since taking over as the featured back for Kansas City he has averaged 101 yards and scored a TD in five of the six games. The Chargers continue to surge and players such as Philip Rivers and Vincent Jackson will hopefully see that reflected in the ratings.
Aaron Rodgers continues to put up big numbers despite an offensive line that has struggled to pass protect and his tendency to hold on to the ball a little long. He had a 383 yard performance with three TDs on Sunday. Steve Smith is starting to show more life now that he doesn't have Jake Delhomme throwing to him anymore. He has 11 catches for 240 yards and two TDs in the last two games. Miles Austin continues to deliver consistently. He has put up 30 catches for 459 yards and four TDs in the last four games.
As always leave your thoughts in the comments on players or teams that are deserving of ratings upgrades or downgrades based on performance.