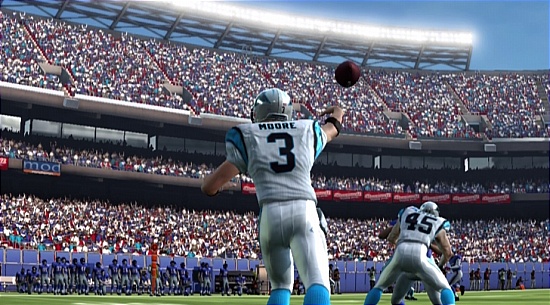 The next roster update for Madden 10 is nearing with its release slated for January 8th just in time for Wild Card Weekend. With the regular season nearing an end some players seem to be shutting it down while others are stepping up or seizing opportunities.
Matt Moore has performed admirably for the Panthers which goes to show even more how Jake Delhomme was overrated in the game through the season. Moore deserves a decent boost based on his six TDs in the past two games while avoiding throwing an INT and currently has just a 64 rating. The Broncos have gone 2-7 in their last nine games but Elvis Dumervil has continued to produce and has earned higher than the 91 rating he has. He set the team record for sacks in a season with 17 and leads the league in the category.
Jerome Harrison continued his stellar play for the Browns and now has 434 yards and four TDs in the last two games. In the other game this year where he got a significant number of carries he had 121 yards. Unfortunately without roster updates on a weekly basis hes still stuck at a 75 rating. Mentioned last week also is Jamaal Charles who topped 100 yards for the third straight game and averages over 100 yards in the seven games he has been the featured back.
As always feel free to leave your thoughts in the comments on what players deserve to see their ratings go up or down based on performance!