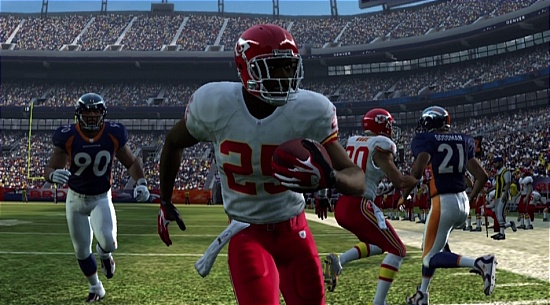 The next roster update for Madden 10 is finally set to arrive come Friday. This will be the second to last and the most significant considering the final one will adjust primarily only based on performance in the playoffs. Some teams have experienced nosedives since the last update and a few others have stepped up so there are some big changes to be made.
Two players who have been mentioned in the last two articles deserve recognition yet again. Jamaal Charles and Jerome Harrison really emerged once they had a chance to become the featured back for their teams. Charles finished with 1120 yards and seven TDs for the Chiefs despite only starting eight games. Harrison in the final three games once he became the featured back with the Browns put up 561 yards and five TDs.
Other players worthy of note include Bears WR Devin Aromashadu who had 22 catches and four TDs in the final four games of the season where he started getting playing time and Vernon Davis who tied the record for TDs by a TE in a season with 13.
As always leave your thoughts in the comments on what players deserve ratings boosts or hits based on performance as of late and throughout the season!