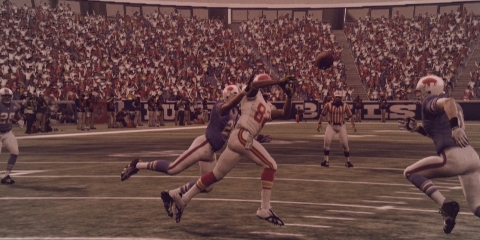 Over the last two weeks votes have been coming in for the sports game that was most enjoyed in 2009. Over 5300 total votes had been cast at the time of publishing this article. That represents a significant number from a large cross-section of gamers and as such is a good indicator of general sentiment towards the titles. While UFC 2009 Undisputed topped my list it was Madden 10 that dominated the polling as the game that the most people considered their favorite of the year.
Madden 10 jumped out early and never looked back dominating the poll with 35% of the votes. Obviously the high sales factor in but some other games didn't perform nearly as well in the voting compared to their relative sales. Madden 10 was well received both by reviewers and gamers which saw stronger word-of-mouth and increased sales as a result. There is definitely momentum leading into Madden 11 so it will be a big year to see if they capitalize on that with a stellar offering.
MLB 09: The Show came in a distant second but held a large edge over the remaining games in the poll. Its 18% is a good number for a game that sold very well but was still a console exclusive meaning many people didn't get a chance to own or play it. There is no way to know for sure but I suspect its poor online play may have pushed some votes that would have gone to it elsewhere. The troublesome online experience has kept it from being my top game for the last two years.
FIFA 10 came in third with 13% displaying a strong level of support from consumers even though soccer is considered to be the least followed in the US of all the games included in the poll. FIFA is seeing increases in its sales based primarily on reputation and the ability for those who aren't enthusiasts of the sport to thoroughly enjoy the game.
NBA 2K10 grabbed a respectable 11%. While it continues to have a very large base of supporters there is no doubt that the overwhelming number of problems and continued online failures have affected its reputation. Considering its huge sales this year and establishment as the mainstream NBA title it had the potential to do much better.
Fighting it out for fifth place was UFC 2009 Undisputed and NHL 10. UFC was able to finish with a slight edge which could be seen as a mild upset. The new franchise likely got the benefit of being a fresh experience which may have even been viewed as a surprise in its quality compared to expectations. While NHL 10 is certainly held in high regard some may not have felt as though it represented much of a leap from the much heralded NHL 09.