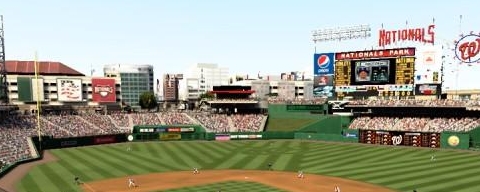 Last year a controversy arose when MLB 2K9 attempted to extend the space for advertising by altering some wall dimensions and adding signs that didn't exist in the stadiums. The two most egregious examples were the left field wall in Nationals Park which became a mini-"Green Monster" in order to accommodate one large ad and Wrigley Field which had a non-existent billboard erected in center field. While more of a just a nuisance there was also some discontent over the sheer number of ads being placed such as those for Pepsi in Tropicana Field.
2K avoided direct comment on the issue at the time and actually brushed off complaints as though it was no big deal. Acts such as these disrespected the fans and the sport it was supposed to be recreating. Ultimately that foreshadowed the lack of care that was put into the entire product.
In a release today regarding the visuals of MLB 2K10 there were some new screenshots posted and in what certainly isn't a coincidence among those included were Nationals Park and Wrigley Field back-to-back. The left field wall in Nationals Park has been fixed and the billboard removed from Wrigley. This is a good first step to establishing some credibility as there was no excuse for the actions taken last year.
Continue on for a comparison look between the real stadiums, MLB 2K9, and MLB 2K10.