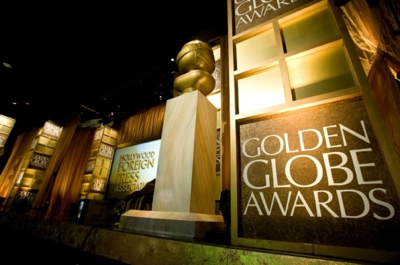 The Golden Globes are generally entertaining due to the laid back party atmosphere. Taking advantage of that will be the host Ricky Gervais as it airs on Sunday night at 8ET/5PT on NBC. Outside of the hilarity he is sure to deliver there is some genuine intrigue in the categories this year. While the Globes are voted on by the Hollywood Foreign Press they are still seen as an indicator of the upcoming nominations and potential winners at the Academy Awards as well.
I went through each category and left some thoughts on what winners I would like to see and in some cases what will be the more likely outcome.
Best Picture Drama
Avatar
The Hurt Locker
Inglourious Basterds
Precious
Up in the Air
Thoughts: Cases could be made for Avatar, The Hurt Locker, and Up in the Air. This is the foreign press deciding on it which gives Avatar and edge and the potential to pull it off. Up in the Air will probably be the winner here.
Best Picture Musical or Comedy
(500) Days of Summer
The Hangover
It's Complicated
Julie and Julia
Nine
Thoughts: Despite terrible reviews and bombing at the box office I'm concerned that Nine will win this. If it doesn't than the very deserving (500) Days of Summer will probably come out on top.
Best Actor Drama
Jeff Bridges, Crazy Heart
George Clooney, Up in the Air
Colin Firth, A Single Man
Morgan Freeman, Invictus
Tobey Maguire, Brothers
Thoughts: While I will view Bridges as the favorite at the Oscars, Clooney is so well liked and in a movie that has played to a larger audience that he will probably win this one.
Best Actress Drama
Emily Blunt, The Young Victoria
Sandra Bullock, The Blind Side
Helen Mirren, The Last Station
Carey Mulligan, An Education
Gabourey Sidibe, Precious
Thoughts: Bullock had such a huge year and has gotten Oscar buzz for The Blind Side. She could pull this one off though Mulligan seems like the more traditional choice.
Best Actor Musical or Comedy
Daniel Day-Lewis, Nine
Matt Damon, The Informant
Robert Downey Jr., Sherlock Holmes
Joseph Gordon-Levitt, (500) Days of Summer
Michael Stuhlbarg, A Serious Man
Thoughts: Again with the Foreign Press the favorite here would be Daniel Day-Lewis. They tend to reward dramatic actors in musicals. There really isn't anyone in the category that will challenge him.
Best Actress Musical or Comedy
Sandra Bullock, The Proposal
Marion Cotillard, Nine
Julia Roberts, Duplicity
Meryl Streep, It's Complicated
Meryl Streep, Julie and Julia
Thoughts: Streep being nominated twice here means that'll split the vote for her which damages her chances. But the competition isn't strong enough for that to matter and she'll probably win for Julie and Julia.
Best Supporting Actress
Penelope Cruz, Nine
Vera Farmiga, Up in the Air
Anna Kendrick, Up in the Air
Mo'Nique, Precious
Julianne Moore, A Single Man
Thoughts: This is an easy one to predict as Mo'Nique is viewed as a lock. I'd like to see Anna Kendrick pull off the upset though.
Best Supporting Actor
Matt Damon, Invictus
Woody Harrelson, The Messenger
Christopher Plummer, The Last Station
Stanley Tucci, The Lovely Bones
Christoph Waltz, Inglourious Basterds
Thoughts: This one seems like a foregone conclusion. Waltz for his performance in Basterds will be the winner.
Best Animated Film
Cloudy With a Chance of Meatballs
Coraline
Fantastic Mr. Fox
The Princess and the Frog
Up
Thoughts: It's hard to imagine the widely beloved Up not winning this. Personally though I wasn't a huge fan of the movie and would give the award to Fantastic Mr. Fox.
Best Screenplay
Neill Blomkamp, District 9
Terri Tatchell and Mark Boal, The Hurt Locker
Nancy Meyers, It's Complicated
Jason Reitman, Up in the Air
Sheldon Turner and Quentin Tarantino, Inglourious Basterds
Thoughts: While I see Up in the Air as a slight favorite to win Best Picture it should be able to take the Screenplay category more easily. Basterds would be its toughest competition.
Best Director
Kathryn Bigelow, The Hurt Locker
James Cameron, Avatar
Clint Eastwood, Invictus
Jason Reitman, Up in the Air
Quentin Tarantino, Inglourious Basterds
Thoughts: While I don't see Avatar winning Best Picture, James Cameron is beloved overseas and he should take this category. His ex-wife Kathryn Bigelow could pull it off though too.
Best TV Series Comedy or Musical
30 Rock
Entourage
Glee
Modern Family
The Office
Thoughts: Glee is the hot show right now and it deserves the win. Modern Family is fantastic also. What did Entourage do to get nominated here?
Best TV Series Drama
Big Love
Dexter
House
Mad Men
True Blood
Thoughts: Mad Men is the favorite here with Dexter having a slim shot at the upset. Would love to see Dexter win this.
Best Actress TV Musical or Comedy
Courtney Cox, Cougar Town
Edie Falco, Nurse Jackie
Tina Fey, 30 Rock
Lea Michelle, Glee
Toni Collette, United States of Tara
Thoughts: Rooting for Tina Fey to repeat though Courtney Cox might be the favorite to capture it. She has gotten more exposure for her comeback.
Best Actor TV Musical or Comedy
Alec Baldwin, 30 Rock
Steve Carrell, The Office
David Duchovny, Californication
Thomas Jane, Hung
Matthew Morrison, Glee
Thoughts: Alec Baldwin will get a second consecutive win with relative ease here.
Best Actor TV Drama
Simon Baker, The Mentalist
Michael C. Hall, Dexter
Jon Hamm, Mad Men
Hugh Laurie, House
Bill Paxton, Big Love
Thoughts: House changed things up this year for the character and Laurie continues to be brilliant in the role.
Best Actress TV Drama
Glenn Close, Damages
January Jones, Mad Men
Julianna Margulies, The Good Wife
Anna Paquin, True Blood
Kyra Sedgwick, The Closer
Thoughts: Julianna Margulies was strong on a successful new show and could come out with the win, but January Jones is well regarded and Mad Men is a Foreign Press favorite.
Best Supporting Actress TV
Jane Adams, Hung
Rose Byrne, Damages
Jane Lynch, Glee
Janet McTeer, Into the Storm
Chloe Sevigny, Big Love
Thoughts: Fantastic to have Jane Lynch win this and she probably will. Her performance especially stands out in Glee.
Best Supporting Actor TV
Michael Emerson, Lost
Neil Patrick Harris, How I Met Your Mother
William Hurt, Damages
John Lithgow, Dexter
Jeremy Piven, Entourage
Thoughts: It would be a real shame if Lithgow didn't get the Globe. His turn in Dexter this season was incredibly powerful and creepy.