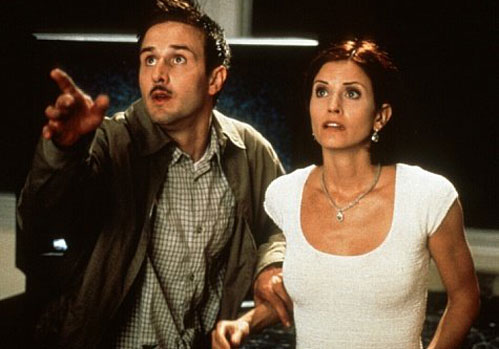 Back in November the first details of Scream 4 were revealed, but we weren't sure if Wes Craven would direct the film. MTV caught up with original Scream cast members Courtney Cox and David Arquette at The Golden Globes, where the two shared some more details of the upcoming film. Both weren't on the same page though when it came to a confirmation.
Asked if Craven would return to direct Scream 4, Arquette had this to say:
"Yes, Wes is in, Neve is in, everyone is in." "I can't wait to do another 'Scream,'" David told us. Soon enough. If all goes according to plan, the cameras will start rolling sometime in April.
However, Cox wasn't so sure his contract was a done deal:
"I know they're trying to make that work," she said, referring to bringing the "Nightmare on Elm Street" creator back on to direct. "They'll make it work," she said, quickly adding "I hope."
As was mentioned before, Scream 4 will be the first film in a new Scream trilogy. We can expect filming to start in a couple of months. Whether or not Craven will be back to direct the next Scream film remains a question though. I'm not sure having him back will really make or break the film though.