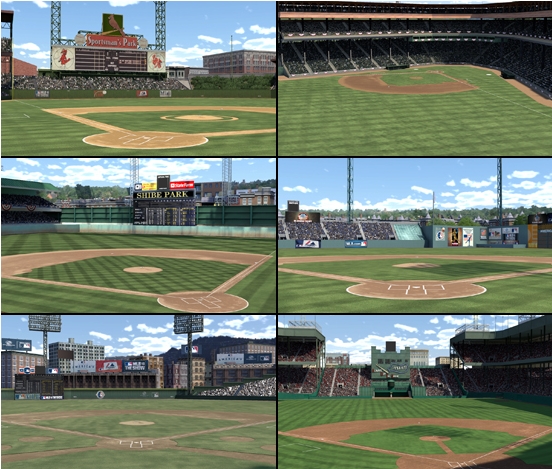 As first noted last month the classic stadiums being advertised for MLB 10: The Show are actually being provided as downloadable content and won't be included in the game. Not only has the pre-order bonus of a code to download the six stadiums reappeared on Gamestop but the same offer is now being made on Amazon.
No word on how much these stadiums will cost otherwise or whether they'll be available individually or only as the full group. Generally I wouldn't see anything wrong with extra stadiums being offered as DLC except that the the marketing for the game so far has implied that the stadiums are a part of the game.
Shibe Park – Opened April 12, 1909 in Philadelphia, it became the first steel-and-concrete stadium in baseball.
Forbes Field – Opened in 1909, was home to the Pittsburgh Pirates and was witness to a World Series-winning 9th inning homerun in 1960.
Polo Grounds – Opened in 1890, was known for its extremely deep center field (483 ft) and unique bathtub shape.
Crosley Field – Was the home field of the National League™ Cincinnati Reds™from 1912 through June 24, 1970.
Sportsman's Park – Was built in St. Louis in 1902. Left-handed power hitters loved hitting here.
Griffith Stadium – Stood in Washington, D.C. from 1911 to 1965, measuring over 400 feet down the left field line.