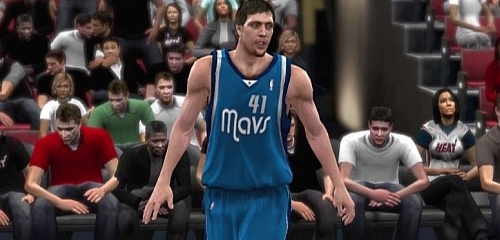 We now know why EA Sports was eager to reveal that lead gameplay designer Mike Wang had left NBA Live after just over a year on the series. Wang is returning to the NBA 2K team. I've been talking about the developments throughout the evening on my Twitter and ESPN has posted up an interview with him that details why he left and adds concerns about the future of NBA Live.
"When I went over there (to EA), a lot of it was for personal reasons. I wanted to try something new, try a new challenge. But after being there and spending some time over at EA, it was clear that they do things a different way, and in a way it's just inefficient and just not the place to be to make the best games," …. With some of the creative decisions over at EA, it just made it difficult to stay there. They just want to make a different game than I had a vision for.
All of this is especially interesting given that the reason Wang left 2K Sports was because he felt that the NBA 2K franchise had hit a ceiling and the resources weren't there to really push it forward. So what he is saying about EA has to be viewed with some level of skepticism given they are about the competitor but there definitely seems to be some truth in it all. Live may now be looking at a shift in its focus and NCAA Basketball is likely gone with poor sales being the reason for both.
This is certainly a huge coup for 2K Sports and a big hit to the state of basketball provided by EA Sports. NBA 2K11 and beyond now has a brighter outlook gameplay wise but they'll need better quality control and to provide a consistent online experience whether NBA Live lasts just one more year or if it remains around as competition for longer.
AM Update: Some other outlets have provided their take on the situation including Kotaku, Game Informer, and Operation Sports.