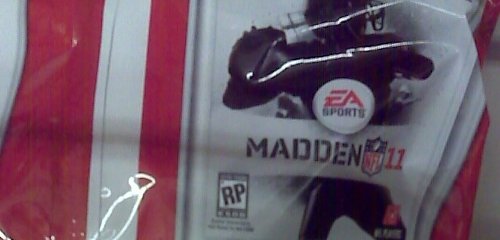 Yesterday I revealed some hints as to the players that will be up for vote for the Madden 11 cover. There will be three to choose from, only one will end up gracing the cover, and all three players are from playoff teams. While the names will be officially unveiled tomorrow with the opening of the contest I wanted to provide some more info to narrow it down and get any final guesses in advance.
Of the three candidates one is the clear standout and likely winner. One of the players will likely be seen as a surprise inclusion given his past. Just one of the three is still playing for the team he was drafted by. All three play different positions with two of them coming from the offense and one from the defense.
So leave your thoughts in the comments on who you think the three players will be and we'll see how they match up tomorrow once they are announced!
Update: I'm going to give a $50 gift certificate if anyone guesses the correct three players. Can leave your entries in the comments or sending through a message to me on Twitter. If multiple people get it right then a random draw from those for the winner.
Update #2: ESPN has revealed the names of the players which I will be putting up a new post for (click here). So guesses are obviously closed. Only two people got the correct three and the winner will be chosen via coin flip shortly.