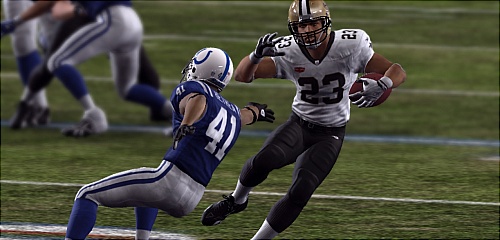 The last week was one of the busiest ever in terms of news and updates most of which were very substantial in relation to upcoming releases. It all started with sightings of a promotion to vote on the cover athlete for Madden 11. It turned out that three players (Drew Brees, Reggie Wayne, Jared Allen) were the eligible candidates. Brees is a certain lock and the inclusion of Allen after three DUIs was a surprise but ultimately EA shaped the contest to get the player they wanted all along so the risk involved was minimal. That Brees won the Super Bowl and was MVP of the game while Wayne is seen as a goat only establishes that even more.
In other Madden related news the Super Bowl halftime blog for Madden 11 was released offering an opportunity to hear about the vision for the game. The final roster update for Madden 10 arrived with a surprise of recently announced retired players being completely removed. As far as I'm aware its the first time off-season transactions have entered into the previous season's game. EA Sports president Peter Moore also announced plans to bring a version of Madden to Facebook.
The biggest development that could represent a huge shift in NBA gaming came with lead gameplay designer Mike Wang departing NBA Live and rejoining NBA 2K. While both companies gave their spin on the events I recapped the situation and evaluated what it could possibly mean in the future. Needless to say the state of basketball at EA Sports is in crisis right now and it'll be interesting to see what they do to attempt and recover. They don't seem to plan on responding to the statements made about them which is going to leave that image of the company and a worrisome direction of Live brewing in the minds of those aware of the news for the months to come.
Exclusive screenshots for MLB 10: The Show were released at different points throughout the week. All of them can currently be found in the gallery. Another six will be posted likely sometime this evening. Also new gameplay videos, the first drawn from within the game instead of recorded off screen, were released featuring the Tigers @ Twins.
UFC Undisputed 2010 revealed Brock Lesnar as the cover athlete and offered up the first details on the game. Backbreaker appears to be starting its promotional push with the first video dev diary for the game. The two games release within a week of each other with Backbreaker out on May 18th and UFC 2010 arriving on May 25th.