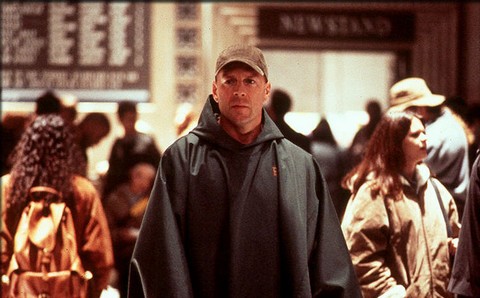 As always actors promoting opening films during the press junket are peppered with questions about future projects. In this case Bruce Willis, with Cop Out opening tomorrow, addressed possible sequels for Die Hard and Unbreakable.
Willis actually states that he believes the fifth installment of the Die Hard series will film next year though nothing has been set in stone. He would like for the story to be taken "worldwide" and already has a director in mind.
He then went on to discuss a potential sequel to Unbreakable, having talked with director M. Night Shyamalan over the holidays. He describes it as being a "fight story" with a clash between now archenemies David Dunn and Samuel L. Jackson's "Mr. Glass". This however would likely be a few years away from coming together.
Live Free or Die Hard was a critical and commercial success so there is no surprise that the franchise would continue. Unbreakable is one of my favorite films, but with 10 years already having passed I wonder how much interest people would have in the sequel. Continue on to watch the video interviews.