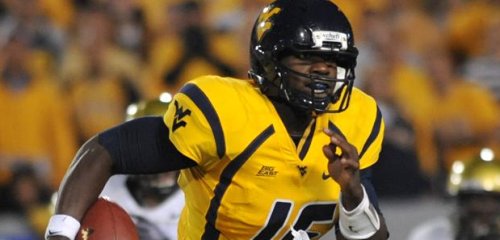 Unfortunately the top quarterbacks decided to sit out of the combine. Whether it be due to recovering from injuries (Sam Bradford, Jimmy Clausen, Colt McCoy), changing throwing motion (Tim Tebow), or no reason but to avoid it (Dan LeFevour), it was a thin class on display. Tebow and LeFevour did run but neither threw.
Most Impressive
Jarrett Brown (West Virginia)
Most surprising about Brown was the accuracy he displayed throwing. He also showed good arm strength. He put up the best 40 time for QBs with a 4.54. He is going to need time to develop at the next level but he has good potential. Probably looking at at being a 3rd rounder but could edge up into the 2nd now.
Zac Robinson (Oklahoma State)
This is someone I really like in the mid-rounds. He has the athleticism and experience and performed well at the Senior Bowl. His 4.71 time in the 40 was third amongst the QBs. He didn't have an amazing combine but he did well enough to solidify my thoughts on him going in.
Disappointments
Sean Canfield (Oregon State)
Showed weak arm strength and was inaccurate on many of his throws. His 40 time was 5.07 which suggests a lack of athleticism. He did nothing to stand out at the Senior Bowl either. His stock, originally thought of as a mid-rounder, has fallen drastically.
Dan LeFevour (Central Michigan)
While LeFevour put up the second best 40 time of any QB he has been heavily criticized for the decision to not throw at the combine. This is going to follow him the whole way up to the draft as an indicator that he may not have the psyche and attitude desired for leading a team.