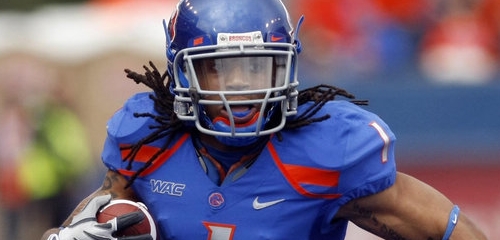 Widely regarded as the best corner in the draft Joe Haden did not have a good day. Better performances were turned in by players who enjoyed success at the Senior Bowl. Haden still will likely be considered the top cornerback but Kyle Wilson is nipping at his heels now.
Most Impressive
Kyle Wilson (Boise State)
While he didn't participate in the drills he surprised everyone with his 25 reps in the bench press. Was one of the biggest risers coming out of the Senior Bowl and he continued to put on a show by surprising yet again. He should be the second corner off the board and could go as high as the late teens in the first round.
Brandon Ghee (Wake Forest)
With a 4.45 time in the 40, the second fastest time for defensive backs behind Taylor Mays, he showed the speed necessary to cover at the next level. He performed well in the bench press and broad jump also. His stock is probably as a 3rd rounder right now.
Devin McCourty (Rutgers)
McCourty showed a combination of good speed (4.48 in the 40) and strength. He looked really good in the drills and is now being discussed as potentially going as high as late in the 1st round though he seems more likely to fall in the early-mid 2nd round.
Disappointing
Joe Haden (Florida)
One of the biggest surprises this combine was the poor results turned in by Joe Haden. Haden, viewed as the top corner in the draft, didn't produce the 40 time (4.58) that would generally warrant a top 10 selection. His vertical of 35 inches was also considered below average. The combine performance could result in Haden dropping in the draft. He likely won't slide too far but with most having him pegged at #7 to the Browns prior to the combine he may now be scrutinized more and fall into the middle of the first round.
Dennis Rogan (Tennessee)
His 4.70 time in the 40 would be alarming enough but for a short corner (5'9″) that could really damage his ability to cover at the next level. Generally smaller corners need to compensate with speed and this will create concern that he will not be able to transition. His value as a returner also drops if he can't improve on the 40 at his Pro Day.