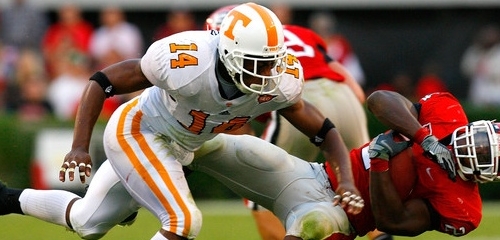 The big names at safety are the ones that primarily stood out at the combine. There was even added controversy as it came to the 40 time of Taylor Mays. The top three safeties all could find themselves chosen by the time the first round is up.
Most Impressive
Eric Berry (Tennessee)
The consensus top safety turned in a strong performance. He ran the 40 in 4.47 while looking terrific in the drills. He has fluid movement with good footwork and explosiveness. Will probably go between pick three and pick six in the draft.
Earl Thomas (Texas)
In my first mock draft I noted that Thomas was someone I expected to see rise on boards as the draft nears. Despite his relatively small stature he lifted 21 times and showed adaquate speed turning in a 4.50 in the 40.
Taylor Mays (USC)
Though the time is unofficial and contested by some the consensus seems to be that Taylor Mays ran a 4.32 in the 40. That is blazing considering his size (230 lbs) and strength (24 bench press reps). While that will garner him attention and for that he lands in the "impressive" category he didn't look very good in the positional drills. His athleticism is limited and he would have trouble covering receivers one-on-one. I think he is going to go off the board between the late 1st round and mid second round.
Disappointing
Myron Rolle (Florida State)
Considered as possibly the smartest player in the draft, something that has actually led questions about his ultimate desire to play football, Rolle turned in a 4.69 in the 40. For a position that is often about instincts and quickness that is a major concern.
Chad Jones (LSU)
Presents many of the same concerns that Mays does. He displayed poor footwork and was slow to change direction. Did not look good in the drills and ran the 40 in a time of 4.57 which won't inspire much excitement amongst scouts.